All courses
COHEHRE Academy staff courses
COHEHRE Academy Student Courses
Partner Events
Jan
11
Mon
ZHAW International Winter School 2021
Jan 11 @ 00:00 – Feb 5 @ 00:00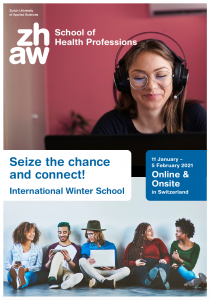 INTERNATIONAL WINTER SCHOOL 2021




CHALLENGES IN INTERPROFESSIONAL HEALTH AND SOCIAL SERVICE
ZHAW School of Health Professions in Winterthur, Switzerland, is happy to offer you an attractive International Winter School 2021 despite the ongoing corona pandemic. We have adapted the School's program to the current restrictions and challenges, offering you some of the courses in an online format. This means that you can participate in the Winter School 2021 from the comfort of your home.
Aims and topics
Together, Swiss and international students will learn about interprofessional cooperation in the health and social sector. Future health professionals and social workers gain new competences in dealing with complex and challenging interprofessional situations and learn how to efficiently cooperate with each other.
This year students can choose between several courses. Some are in hybrid (onsite and online) and some in online only format. Participants can book one full-time course per week.
All courses are in English, level B1-B2 required.
Credits
For the two full time courses students will gain 2 ECTS (European Credit Transfer System) subject to 50 – 60 hours of student work. Preparatory assignment, full time attendance and successful end of week assessment are required.
Target group
Third year Bachelor students of the health professions of ZHAW, some ZHAW Social Work students and around 150 students from partner institutions of ZHAW School of Health Professions or ZHAW School of Social Work studying Midwifery, Nursing, Occupational Therapy, Physiotherapy, Health Promotion and Prevention or Social Work.
Courses are primarily aimed at Bachelor level, but Master level students are welcome to participate. Some practical experience is required, at least 2nd year of BSc study.
Date
11.01.2021-05.02.2021
Mon-Fri 09:00-16:00
Online and Onsite in Switzerland
Registration
We will give priority to the students of choice of our partner universities. In a second step the courses are open to all health – and social care students and universities. Thank you for adhering to the following nomination and registration process:
First step – Nomination (deadline 07. November 2020):
Please email us your nominees at international.gesundheit@zhaw.ch including the names, e-mail addresses and which course that they would like to attend. Indicate the priority of your students of which we aim to consider at least two and the remainder will be set on the waiting list. In the on campus course we are aiming at a high diversity as the spots are limited.
Second step – Online Registration (deadline 15. November 2020):
The registration link and the cancellation policy are still in progress but will be online in November. All payments will be made online and will go hand in hand with the registration. Before 15th of November the waiting-list students will be notified and informed about the registration process. There will be a separate communication.
Staff Mobility:
There will be reduced staff mobility possible during this Winter School and the course leaders will contact their colleagues directly if and when support and collaboration is planned.
More detailed info could be found on the following link: Winter School 2021 Website
Flyer
Flyer Winter School 2021
Feb
3
Wed
HAN International week Health & Social studies

@ Microsoft Teams
Feb 3 @ 08:00 – Feb 5 @ 17:00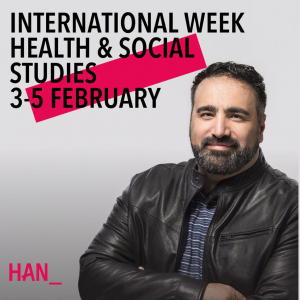 INTERNATIONAL WEEK 




HEALTH AND SOCIAL STUDIES
We warmly invite you to participate in our 9th International Week, from Wednesday 3 to Friday 5 February 2021. In anticipation of further COVID-19 measures, the week will mostly be organized online.
Of course the week will consist of lots of online lectures and workshops. Some activities will take place on campus. Only a few seats are available. Keep posted to find out how you can get a ticket for one of the campus activities. All activities on campus will be streamed live, so no one has to miss out!
From Wednesday 3 to Friday 5 February 2021 participants from all over the world will give workshops, presentations and key-notes about topics concerning Health and Social Studies. One of the key note speakers is the Dutch research journalist Sinan Can who has made several documentaries about the Middle East. We have also received registrations from speakers from USA, Scandinavia, India, UK and Russia. This year the week will mostly be organized online, but some activities are on campus.
The international week is organized for second year HAN students of:
– Educational Theory
– Social Work
– Arts therapies and Psychomotricity
– Applied Psychology
– Nursing
– Allied Medical Care
– Occupational Therapy
– Physiotherapy
– Speech and Language Therapy
Because most activities are online, some of them will also be open for other HAN-students or international students. Stay tuned to our channel, to get informed and inspired.
Mar
3
Wed
Inspiring innovation to meet contemporary global public health challenges

@ Online
Mar 3 @ 17:00 – 19:00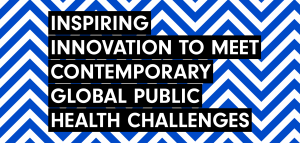 INSPIRING INNOVATION TO MEET CONTEMPORARY GLOBAL PUBLIC HEALTH CHALLENGES
As an existing Undergraduate or Postgraduate student of the College of Health, Psychology and Social Care at the University of Derby, a potential new international student, or a student enrolled at an overseas partner University you are all warmly invited to join our free, virtual international mobility challenge event for 2021. All participants will have the chance to win £500 of online shopping vouchers.
During March you have the opportunity to work online within small mixed student teams to network and innovate creative solutions to contemporary challenges.
Teams will be mixed and allocated at the start of the challenge – so you will need to get collaborating straight away!
It will be an opportunity to meet other students on a shared online platform, learn about one another, explore different approaches & cultures, ignite and share ideas, collaborate towards a shared proposed solution, and continue to maintain these new networks in the future.
Within your allocated team you will examine a defined contemporary global public health challenge.
You will ultimately be required to produce and present a short video of your proposed team solution detailing the Why, What, and How. The notional budget for the solution needs to be determined by the team – but you need to be realistic and consider how you would successfully secure suitable funding if after this event you wanted to go ahead and take this solution to actual delivery.
We will have a winning group for this challenge with £500 of online shopping vouchers to be shared amongst the winning team members.
Contact sessions will all take place in UK GMT time:
3 March: 1700-1900
4 March: 1700-1900
10 March: 1700-1900
11 March: 1700 -1900
17 March: 1700-1900
18 March: 1700-1900
You must be prepared to attend ALL of these online sessions as they are primarily opportunities for you to meet with your team and work on your proposed solution together.
The event will be supported by guidance from academics with a wide range of experience in public health initiatives and interventions from within the United Kingdom and around the globe. Although please note this is not a taught challenge, it is student-led and your own group will be coming up with the solutions!
For any additional queries before the event or if you need to cancel a reserved place, please contact Guy Collins (Senior Lecturer/College International Academic Lead).
Register here