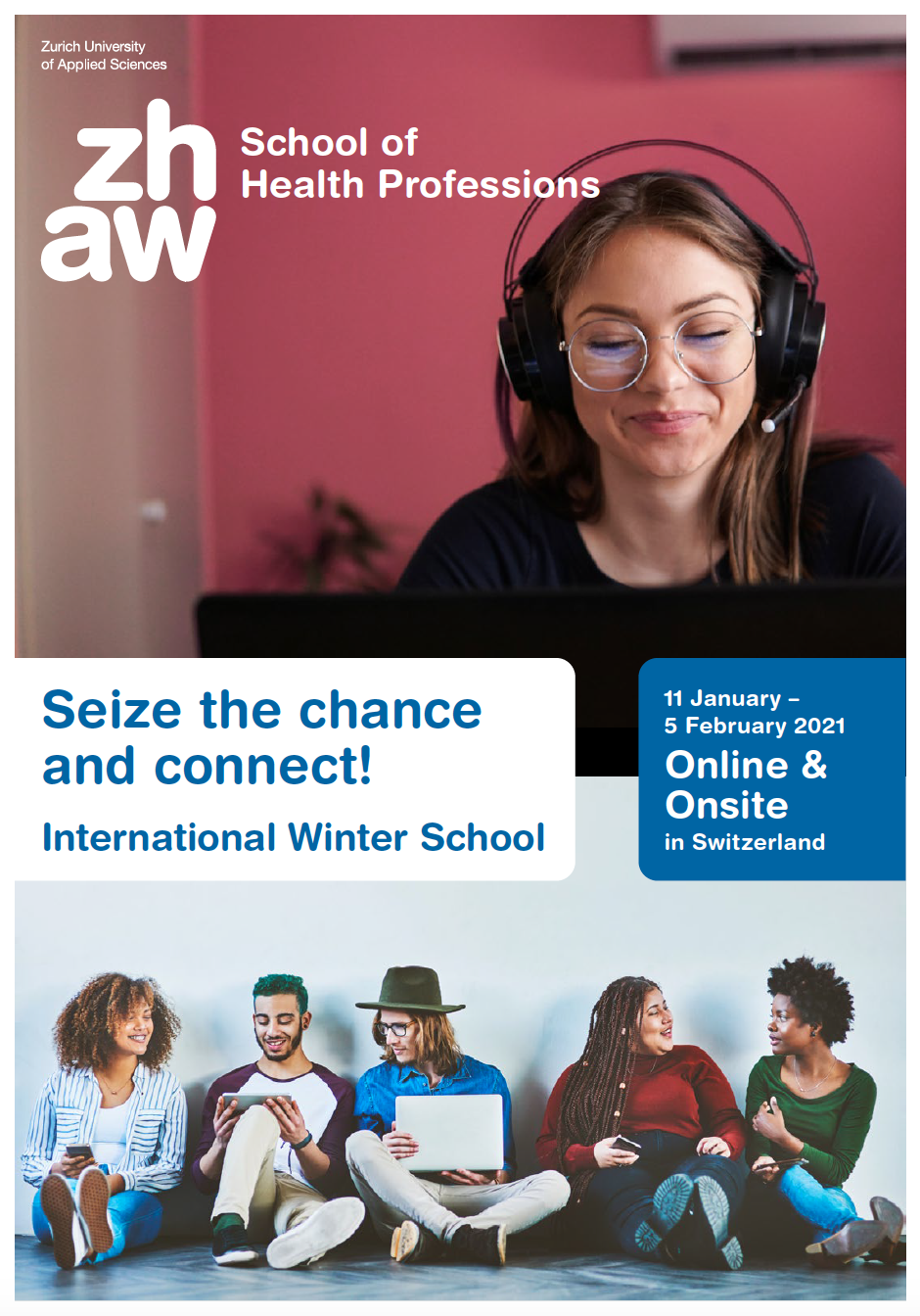 By Isabelle Delariviere In
When:
11 January 2021 @ 00:00 – 5 February 2021 @ 00:00
2021-01-11T00:00:00+01:00
2021-02-05T00:00:00+01:00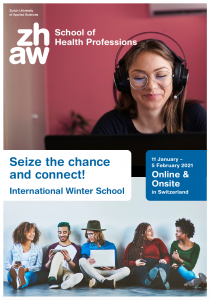 INTERNATIONAL WINTER SCHOOL 2021




CHALLENGES IN INTERPROFESSIONAL HEALTH AND SOCIAL SERVICE
ZHAW School of Health Professions in Winterthur, Switzerland, is happy to offer you an attractive International Winter School 2021 despite the ongoing corona pandemic. We have adapted the School's program to the current restrictions and challenges, offering you some of the courses in an online format. This means that you can participate in the Winter School 2021 from the comfort of your home.
Aims and topics
Together, Swiss and international students will learn about interprofessional cooperation in the health and social sector. Future health professionals and social workers gain new competences in dealing with complex and challenging interprofessional situations and learn how to efficiently cooperate with each other.
This year students can choose between several courses. Some are in hybrid (onsite and online) and some in online only format. Participants can book one full-time course per week.
All courses are in English, level B1-B2 required.
Credits
For the two full time courses students will gain 2 ECTS (European Credit Transfer System) subject to 50 – 60 hours of student work. Preparatory assignment, full time attendance and successful end of week assessment are required.
Target group
Third year Bachelor students of the health professions of ZHAW, some ZHAW Social Work students and around 150 students from partner institutions of ZHAW School of Health Professions or ZHAW School of Social Work studying Midwifery, Nursing, Occupational Therapy, Physiotherapy, Health Promotion and Prevention or Social Work.
Courses are primarily aimed at Bachelor level, but Master level students are welcome to participate. Some practical experience is required, at least 2nd year of BSc study.
Date
11.01.2021-05.02.2021
Mon-Fri 09:00-16:00
Online and Onsite in Switzerland
Registration
We will give priority to the students of choice of our partner universities. In a second step the courses are open to all health – and social care students and universities. Thank you for adhering to the following nomination and registration process:
First step – Nomination (deadline 07. November 2020):
Please email us your nominees at international.gesundheit@zhaw.ch including the names, e-mail addresses and which course that they would like to attend. Indicate the priority of your students of which we aim to consider at least two and the remainder will be set on the waiting list. In the on campus course we are aiming at a high diversity as the spots are limited.
Second step – Online Registration (deadline 15. November 2020):
The registration link and the cancellation policy are still in progress but will be online in November. All payments will be made online and will go hand in hand with the registration. Before 15th of November the waiting-list students will be notified and informed about the registration process. There will be a separate communication.
Staff Mobility:
There will be reduced staff mobility possible during this Winter School and the course leaders will contact their colleagues directly if and when support and collaboration is planned.
More detailed info could be found on the following link: Winter School 2021 Website
Flyer
Flyer Winter School 2021