By Isabelle Delariviere In
When:
14 April 2021 @ 16:30 – 18:00
2021-04-14T16:30:00+02:00
2021-04-14T18:00:00+02:00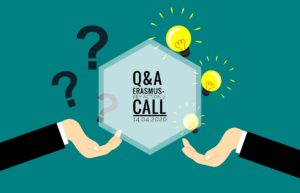 Title
Q&A on Erasmus+ Key Action 2 call

Description
A consultancy session on the new Erasmus+ Key Action 2 application for partnerships for higher education.
This session will be led by Annemie van den Dries. If you would have questions concerning this subject, please, do send them in on the registration link below by 12/04 latest, so that Annemie can prepare in order to assist you in your queries.
Presenters
Annemie van den Dries has always had a great interest in Erasmus plus and gathered a lot of know-how over the years seeing she has been a collaborator in projects for quite some years.
Date and time
Wed April 14, 2021 at 16:30-18:00 CET
Registration
Free of charge
Register here
To take part in this Q&A session it would be advised to open the link in Chrome or Microsoft Edge in order to avoid joining problems.
The day before the Q&A session we will send you a reminder e-mail containing a link to the session.
This link will become active 15 minutes prior to the Q&A session start time.