All courses
COHEHRE Academy staff courses
COHEHRE Academy Student Courses
Partner Events
Mar
18
Thu
Webinar 3: Supporting students for meaningful learning

@ Microsoft Teams
Mar 18 @ 16:30 – 17:30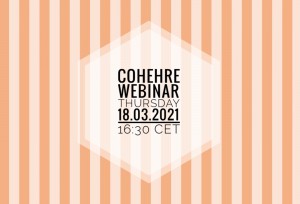 WEBINAR 3
Title
Supporting students for meaningful online learning

Description
Online teaching has increased enormously lately because of COVID-19 and its effect on education. Being able to study and work online is becoming more and more a way of working in all fields. In health care as well as in social work it is commonly used eg. in mental health and for distance rehabilitation. Being able to use tools which enables communication from a distance is essential for future experts.
Lately there has been a lot of information about students being tired and bored of studying online. Some might say this is because of lack of communication, some because of teachers not having enough skills to facilitate meaningful learning online or because of other reasons. This webinar will be a practical session to learn and share practices on how to engage students for meaningful online learning.
Keywords
: online learning, student engagement, learning community, visualization

Presenters
Filip Dejonckheere, Educational psychologist, Expertise Network Health & Care, Artevelde University of Applied Sciences (Belgium)
Ulla-Maija Seppänen, Senior Lecturer & Learning Designer, MSc Health, (OT (reg.) & Psychotherapist) Oulu University of Applied Sciences (Finland)
Janne Karjalainen, Senior Lecturer, Project Based Learning (M.Sc Tech) Oulu University of Applied Sciences (Finland)

Date and time
Thursday March 18, 2021 at 16.30 CET

Registration
Register here
To take part in a webinar it would be advised to open the link in Chrome or Microsoft Edge in order to avoid joining problems.
The day before the webinar we will send you a reminder e-mail containing a link to the webinar.
This link will become active 30 minutes prior to the webinar start time.
Mar
24
Wed
POSTPONED TO 2022 COHEHRE Conference 'Urban Health: Inclusion and Sustainability in super-diverse cities'

@ Hogeschool Rotterdam
Mar 24 @ 00:00 – Mar 26 @ 00:00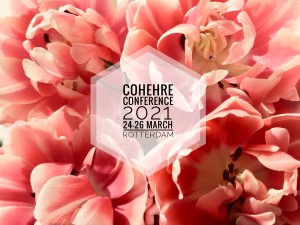 The COHEHRE Council, in consultance with the Conference Host Rotterdam University of Applied sciences, have decided to postpone the yearly COHEHRE Conference to March 2022 due to the uncertainty Covid-19 has brought on. The exact days of the conference will be communicated in due course.
This postponement was not an easy decision to make but the best one seeing the circumstances we are living in at the moment.
We are still striving to maximise your membership and will be organising alternative activities. Apart from the monthly free webinars we are foreseeing, we will organise an exciting programme for students and extra focused webinars with a particular interest in our 3 branches.
Stay tuned for more news on our student and staff conference alternatives!

URBAN HEALTH:
INCLUSION AND SUSTAINABILITY IN SUPER-DIVERSE CITIES
SUBTHEMES
1. Students: Education & Diversity
Lifelong learning
Customised programmes
Differences in student lifestyles (socio-cultural)
Inclusion
International study programmes
Interprofessional learning
Technology for education
2. Clients: Practice & Diversity
Urbanisation and health related issues
Resilient cities
How to promote Urban Health?
New challenges in a diverse society
Health literacy & prevention
Inclusion of newcomers
Prevention
Sexual diversity within healthcare
Vulnerable groups (ageing people, disabled people, etc.)
The use of technology and E-health
3. Healthcare professionals: Labour market & Diversity
Labour market shortages
Ageing workforce
Resilience and burn-out prevention
Including culturally diverse workforce
Cultural differences in the field
The use of technology and E-health