By Isabelle Delariviere In
When:
2 November 2020 @ 00:00 – 27 November 2020 @ 00:00
2020-11-02T00:00:00+01:00
2020-11-27T00:00:00+01:00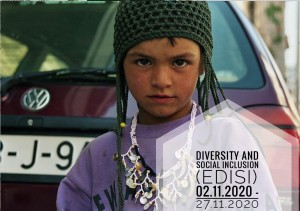 DIVERSITY AND SOCIAL INCLUSION (eDiSI)

Keywords
Social isolation / migration /inclusion /poverty /low SES / hyper-diversity 

Short description
Diversity and Social Inclusion is a program of study aimed at enhancing awareness of different kinds of social inequalities rooted in many different ways of diversity in our contemporary societies. It supports to develop core competences in health care professionals, social workers with the help of an already piloted interdisciplinary model (ICIC) based on blended learning approach. This model could improve the sensibility to differences in cultural, socio-economic and health status, and the unequal distribution of social resources. A final assignment is required to be presented in the last day of the course, which also serves as the ground for assessment.
This programme offers a unique opportunity for you to meet with fellow students and teaching staff from different countries and professional backgrounds to listen to, discuss and debate the issues around inclusion of the most vulnerable group of people in our societies.

Validation
3 ECTS

Dates
02.11.2020 – 27.11.2020

Tools
Online team work on Microsoft Teams & online collaboration tools (camera and mic required)

Outline / schedule
100% online course
Every week Mo, Tue, Wed & Thu 17:00-18:30 CET
+ students working independently in teams 4-6h/ week

Detailed information on programme, fees, registration, payment…
See information sheet below.

Registration
Deadline:   24 Oct. 2020
Selection will be based on diversity of participants.
Registration here

Flyer
Flyer eDiSI November 2020

Information sheet
eDiSI Info Sheet